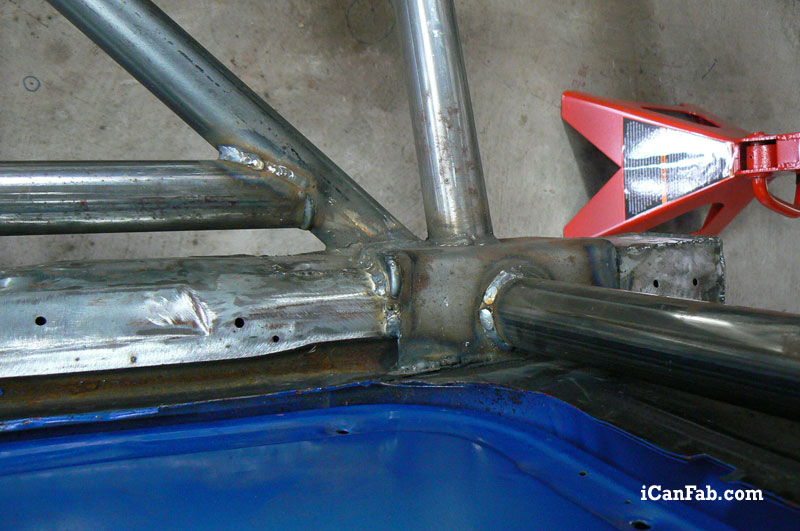 The formula for successful chassis fabrication includes proper project management.
1972 CHEVY VEGA UPDATE: The photo below shows the RCI 5-gallon fuel cell has been placed against a rear bulkhead surrounded by 3/4-inch tubing.

Below shows the Aerospace drag race break kit
The FORD 9″ center chunk Aluminum Daytona support and a 1350 U/Joint size.
4.56 rear end gears
The below photo shows the chassis and suspension roof bar that was added. This car will handle 1200 horsepower once finished this additional bar was added for strength.
Having the proper metal fabrication tools are very important when building a chassis and suspension like this. We need to get each stage of the project done within an specific time range if we are going to stay on schedule and within budget so we can sell this car for a reasonable price.
Below you will see tubing outriggers from frame rails to main hoop base.
We modified both left and right sides of our S & W full 2×3 frame.
Below additional sill bar has been added for NHRA compliance.
S & W Race Cars full 2×3 frame
The below photos show the floor X and drive shaft loops. We added the X in the floor base for additional safety.
These photos show the S & W Race Cars full 2×3 frame and S & W ladder bars front crossmember with brackets
Below shows the right front motor plate mount. This drag car will be perfect for engine swaps.  Once finished this radial tire car will be able to handle up to 1200 HP.
Below shows the steel dummy block in place.
A doghouse was made since this engine was set back over 4″
It looks like this Vega is ready for a firewall.