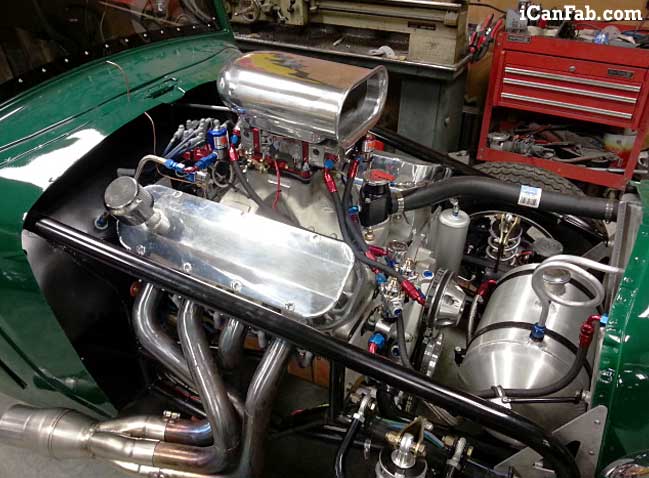 The final days of our 33 Coupe Custom Build. We started this Plymouth project in November 2014, and it will be finalized this week (9/30/2015).
The only non-steel part of this car is the front grille shell. This car will have working headlights, turn signals, brake lights, horn, tag light, street legal.
1933 Plymouth Coupe with a 468 BBC
Liberty (SCAT) Aftermarket Steel Crankshaft and

Connecting

Rods
2-bolt main with ARP studs and stud girdle
Block line honed with Solid Roller Cam
Brodix

Aluminum Cylinder Racing Heads

Brodix Aluminum Intake, Match Ported

Holley Aluminum Ultra XP Carburetors with 850 CFM

NOS Big Shot system
Fab valve covers
ARP head bolts

ARP Hardware; Fasteners, Nuts, Bolts, Studs

Melling HV77 oil pump, Milodon performance oil pan
MSD Billet Distributor & MSD Bronze Distributor Gears
MSD Digital-6 Ignition
MSD Coil
Holley Fuel Pressure Regulators
Barry Grant 280 Fuel Pump
TH400 Transmission with extra clutches
Trans brake
Trans shield

ATI's Fuel & Blown Drag Race Torque Converter

5 Gallon Custom

Spun Aluminum Fuel Tank

Custom Exhaust Headers with Edelbrock Competition Merge Header Collectors.
Chris Alston double frame rail, round tube, mild steel custom chassis. NHRA Certified.
This is a one-of-a-kind car. This entire project will be completed by end of week and final photos posted.
We made custom exhaust headers for this car, with and added benefit of Edelbrock Competition Merge Header Collectors, you can't find these anymore.
This car also comes with Zoomie Headers. The Zoomies make this car very exciting at the dragway  — and may reach the tracks decibel level limit!  It will certainly grab everyone's attention.
FOR SALE