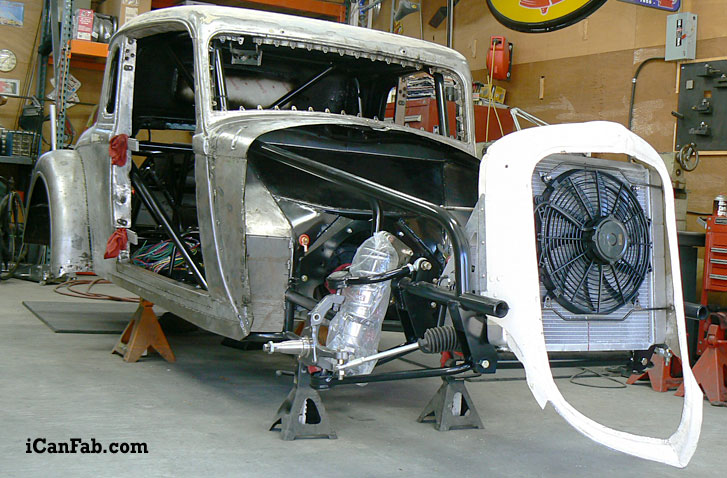 The final "hit list" on this 33 Coupe is getting smaller every week.
We started this 1933 Plymouth Coupe project 5 months ago — and with steady progress — we are nearing closure. This has been a great project for the iCanFab shop with lots of metal fabrication and welding!
In the photo below, you can see the sheet metal fabrication on the firewall is finished. Around the front window the tabs have been welded for the Lexan® front windshield we will be making.


This car's suspension is very important. This Coupe will be a street car, yet at the track will be built to handle 1200 HP. Below photo we test fit front end with shocks.


The 33 Plymouth Coupe has this great grill, but the cooling fan we need is to big and heavy to simply zip tie to the radiator core. So we had to be creative and fabricate a mount system that became part of the grill shell.
The photo below shows lots of overall progress with the wiring; including placing of the brake system, wiring the entire car, engine, Nitrous Oxide System, vehicle lights and accessories.
The below photo shows the final sealing up of the firewall and behind dash is complete. Plus we just finished welding this mount we fabricated to hold the Racepak Digital Dash data system.