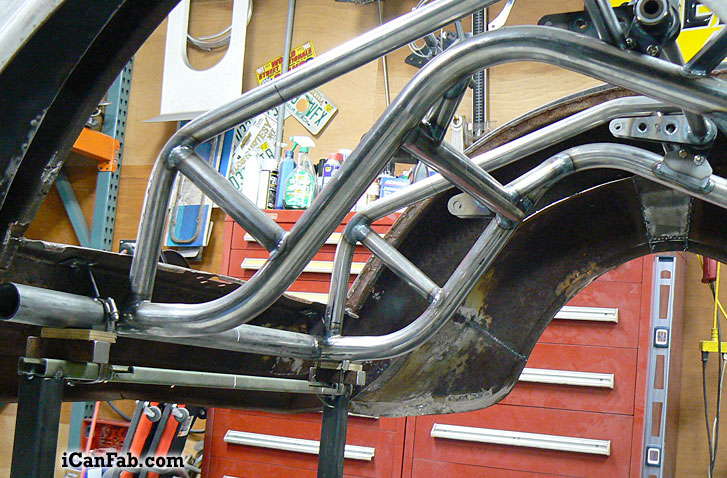 There are many factors to consider when building a hot rod or any street car by yourself. First of all, do you have the skills required to build your own car? Secondly, do you have all the tools you will need to finish the project? If you answered no to either question – you can buy this one complete in a few months.
Custom fabrication on 1933 Plymouth Coupe

In the photo below, we are sizing up for wheel tubs and cleaning up and trimming off excessive sheet metal, plus finishing up the anti-roll system.
These cars usually have the tires outside the body, and that would be a skinny tire.
This '33 will have big block power and will need a bigger tire. To put on a bigger tire, we opened the quarter panel four inches. We sectioned up the old fender and re-attached it to the quarter panel. Then we filled in the blank spaces with hand formed sheet metal. The rear section of the fender was shortened and moved up, as seen in the below photo.
The goal is a balance of  style and comfort.
Door bars and seat mounts make the interior of this '33 Coupe small, as seen in the photo below. Since we had an aluminum seat laying around the shop we decided to take out the Sharpie pen to design a custom template for a bomber seat that would better fit the interior, and accommodate a larger driver.
Once we created the drivers seat to our liking – we made the passenger seat from the driver seat as our template.
Flat level and square to centerline.
The below photo shows final on anti-roll bar, 4-link bars, shock mounts and final on wishbone.
FOR SALE