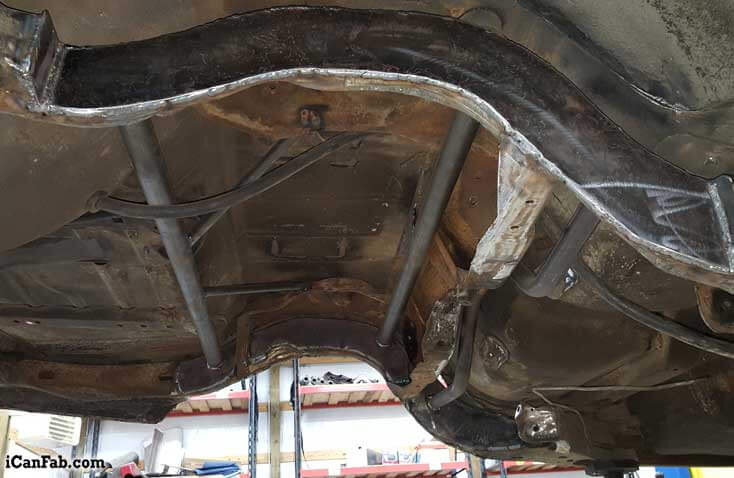 The G-body designation was originally used for 1969–1972 Pontiac Grand Prix and 1970–1972 Chevrolet Monte Carlo personal luxury coupes.
The term "G-Body Shuffle" became popular in the drag racing community for the vehicle's side-to-side motion of the rear end after taking off from the starting line. This was due to the car's triangulated four-link rear end suspension, which caused uneven torque to the rear wheels under strenuous driving.
The photo above is an overview of this Malibu drag car after plates have been installed inside and outside of original frame. In addition, chrome moly tubing was welded side-to-side. Notice the torque box tied to tubing placed on the rear frame rails.
Below shows the frame rail fillers on narrowed frame rails to allow a bigger tire.
This drag racing Malibu had been doing the G-body shuffle for years and was breaking in half. Frame rails were cracked and had been patched numerous times.
To help tie things together — we bent up one more bar in the shape of the front of the torque box. Trailing arms go right back in and no suspension bind.
Like NEW and now ready for lots of horsepower.
This plate-up and bar-up tightens the rear of this G-body style drag car. This Malibu is going feel different off the starting line.  Doing what we can to combat the G-body shuffle.